Garlic Butter Mushroom Stuffed Chicken.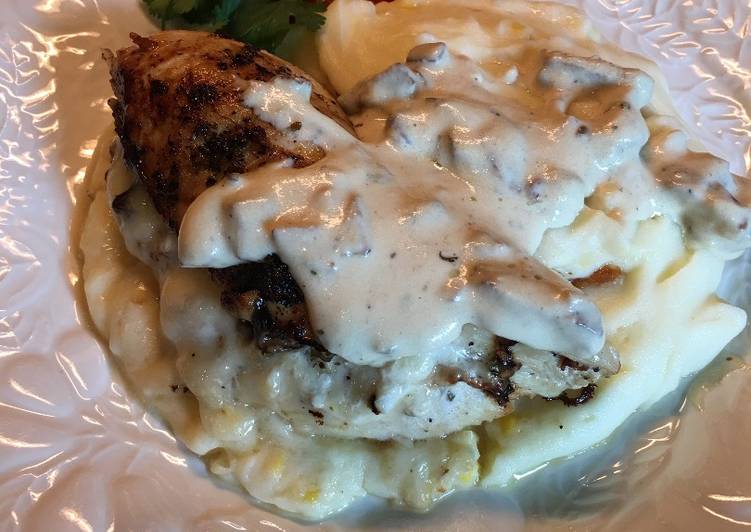 You can cook Garlic Butter Mushroom Stuffed Chicken using 20 ingredients and 5 steps. Here is how you cook that.
Ingredients of Garlic Butter Mushroom Stuffed Chicken
It's of Chicken:.
Prepare 4 of boneless, skinless, chicken breast.
It's to taste of Salt & Pepper.
It's 1 tsp of onion powder.
You need 1 tsp of dried parsley.
You need 8 slices of mozzarella cheese.
It's 1/4 cup of fresh grated parmesan cheese.
You need of Mushrooms:.
It's 4 tbsp of butter.
It's 8 oz of mushrooms, sliced.
It's 4 cloves of garlic, minced.
You need to taste of salt & pepper.
Prepare of Garlic Parmesan Cream Sauce:.
You need 1 tbsp of olive oil.
Prepare 2 of large cloves garlic finely chopped.
Prepare 1 tbsp of Dijon mustard.
You need 1-1/2 cups of half & half.
It's to taste of salt and pepper.
It's 1/2 tsp of cornstarch cornflour mixed w/2tsp of water (for a thicker sauce).
You need 2 tbsp of fresh chopped parsley.
Garlic Butter Mushroom Stuffed Chicken step by step
Preheat over 400. Melt butter medium high, in a large over 12 inches oven proof pan or skillet. Add garlic and sauce' about 1 minute. Add in mushrooms, salt, pepper, and parsley. Cook until soft, then set aside..
Pat breast dry with paper towel and I like to slight tenderize before slicing a slit through the thickest part of each breast, placing 2 slices of mozzarella into each breast pocket. Fill each breast with the mushroom mixture, if any left over you will use them later. Top the mushroom mixture with 1 tbsp of parmesan cheese per breast. Seal with 2 to 3 toothpicks near the opening to keep the mushrooms inside while cooking..
Heat the same pan the mushrooms were in along with the pan juices ( the garlic butter with take on a nutty flavor. Add the chicken and sear until golden, flip and sear on other side until golden. Cover pan and continue cooking in preheated over for a further 20 minutes or until completely cooked through the middle no pink. There are those Corn Whipped Potatoes again, my boys love them. You can also serve on rice, pasta or fresh vegtables!.
To make the optional cream sauce, transfer chicken to a warm plate, keeping all juices in pan. Fry the garlic in the left over pan juices about 1 minute. Reduce heat to low and add mustard and half and half..
Bring the sauce to a gentle simmer and add in any remaining mushrooms and parmesan cheese, allow the sauce to simmer until the parmesan cheese has melted slightly. If the sauce is too runny for you add the cornstarch/water mixture into the centre in the pan and mix fast to combine into the sauce. It will begin to thicken immediately, season salt & pepper to your taste and then add in the parsley and chicken back into the pan to serve..