Rollatini - The Indian twist!.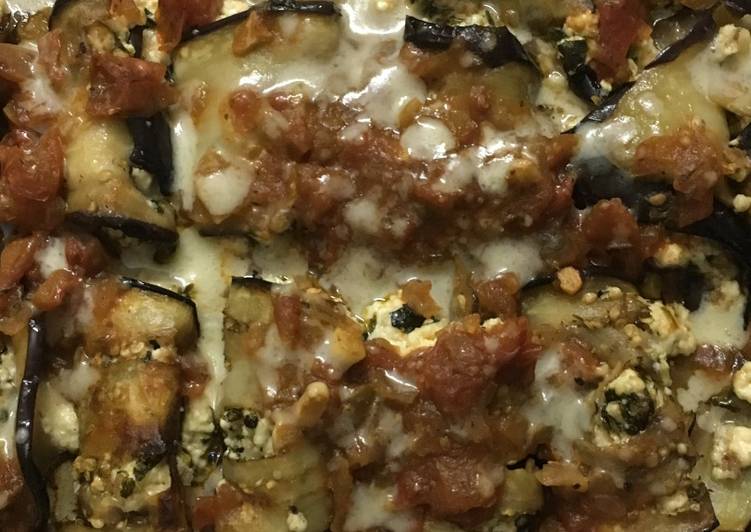 You can have Rollatini - The Indian twist! using 14 ingredients and 5 steps. Here is how you achieve it.
Ingredients of Rollatini - The Indian twist!
You need 1 large of Brinjal - thinly sliced lengthwise.
You need 4 tbsp of Cooking oil.
You need 200 g of Paneer.
You need 2 tbsp of Mozarella cheese.
You need 2 tbsp of Chopped coriander.
You need 2 tbsp of Chopped fenugreek leaves.
Prepare 1 of Onion.
It's 4 of tomatoes.
Prepare 4 cloves of Garlic.
You need 4 of Green chillies chopped.
You need 2 tsp of Pasta seasoning.
You need 1 tsp of Basil.
It's 1/2 tsp of Sugar.
Prepare as required of Salt.
Rollatini - The Indian twist! step by step
Slice the brinjal lengthwise into thin slices. Rub a little oil and salt on it and let it rest for half an hour..
Heat 1 tsp oil in a pan. Add the chopped coriander leaves, fenugreek leaves and 2 green chillies and saute for a minute. Add the crumbled paneer and mozarella cheese and turn off the stove. Let it cool..
Add 2 tbsp of oil in a separate pan. Add finely chopped onions, 2 green chilles and garlic and saute till it turns brown. Now add the chopped tomatoes and cook till mushy. Add salt, pasta seasoning basil and sugar. Add water and let the sauce cook for about 15-20 minutes. Turn off the stove and let it cool..
Now arrange the brinjal slices in an oven tray and let it bake for 20 minutes at 200 degrees C. Remove them and let them cool for 2-3 minutes..
Now put a spoonful of the paneer mixture on it and roll it. Roll all the slices similarly. Pour half of the tomato, onion sauce on the oven tray and arrange the rolled brinjal slices on it. Pour the remaining sauce on top and sprinkle cheddar cheese on it. Bake in a preheated oven at 200 degrees C for 10 minutes. Serve hot with garlic rolls or just enjoy as such!.