Tomato Pie.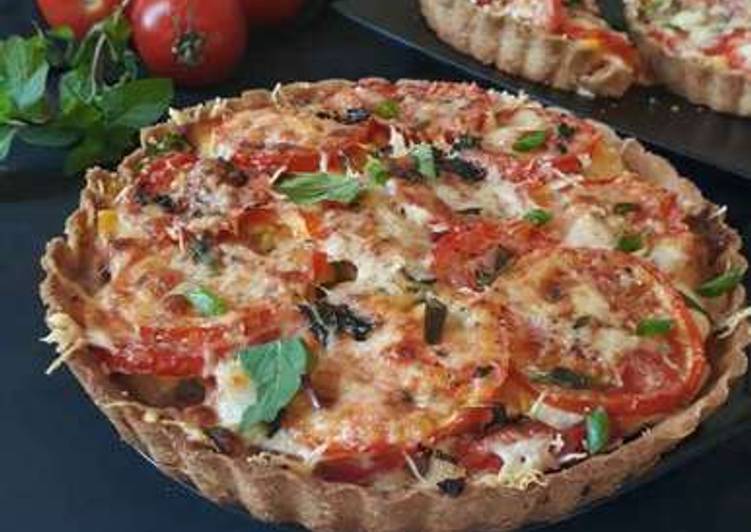 You can have Tomato Pie using 13 ingredients and 23 steps. Here is how you achieve that.
Ingredients of Tomato Pie
You need 2 cups of Whole Wheat Flour..
You need 3/4 cup of Butter,chilled and cubed.
Prepare 1 Tsp of Salt..
Prepare 1/2 cup of Ice cold Water.
You need 4 cups of Tomatoes,thinly sliced.
Prepare 1 1/2 Tsp of Salt.
Prepare 1/2 cup of Mayonnaise..
You need 1 Tbsp of Fresh Lemon juice.
Prepare 1 Cup of Shredded Parmesan cheese.
You need 1 1/2 Cup of Sweet Corn.
Prepare 2 Tbsp of Fresh basil finely chopped.
You need 1 Tbsp of Fresh chives.
It's 1/4 Tsp of Freshly ground black Pepper.
Tomato Pie step by step
Steps for preparing pie-crust:-.
In the bowl add whole wheat flour and salt..
Add chilled butter cubes to flour rub with fingers tips until mixture resembles bread crumbs..
Mix well and slowly add chilled water to form a stiff dough..
Wrap dough in cling wrap and refrigerate for 30 minutes..
After 30 minutes take out the dough from the refrigerator and roll dough into a circle on a lightly floured surface..
Preheat oven at 220*C for 10 minutes..
Fit rolled dough into a pie pan,pressing firmly against bottom and sides..
Fill pastry with dried beans (this will keep the crust from bubbling up) and bake at 220*C for 20 minutes..
Once done Cool completely on a wire rack for about 30 minutes..
Steps for preparing pie filling:-.
Place sliced tomatoes in a single layer on paper towel,sprinkle with 1 tsp of salt. Let stand 10 minutes..
Whisk together mayonnaise, lemon juice, and 3/4 cup cheese in a small bowl..
Steps for assembling pie and baking:-.
Preheat oven at 190*C for 10 minutes..
Sprinkle 3/4 cup corn in bottom of crust, sprinkle with 1 Tbsp basil, 1 1/2 tsp chives, 1/4 tsp salt, and 1/8 tsp pepper..
Pat dry sliced tomatoes with a paper towel..
Arrange half of tomato slices over corn, overlapping slightly..
Repeat layering with remaining corn,basil,chives, salt, and pepper.Now spread mayonnaise mixture over filling..
Arrange remaining tomatoes over mayonnaise mixture, overlapping slightly..
Sprinkle 1/4 cup parmesan cheese,chives and basil leaves over tomatoes..
Bake at 190*C for 25-30 minutes or until filling is bubbly and cheese is melting..
Let stand on a wire rack 15 minutes before cutting into wedges.