Sig's Courgette Salad with Dolcelatte.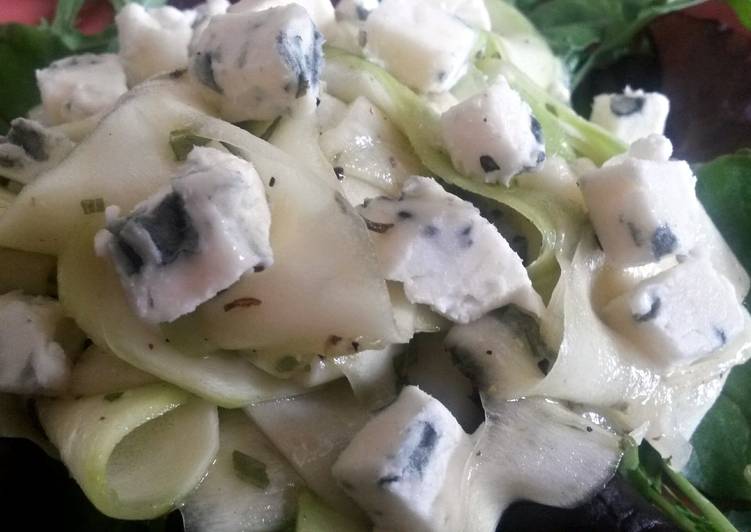 You can cook Sig's Courgette Salad with Dolcelatte using 6 ingredients and 6 steps. Here is how you achieve it.
Ingredients of Sig's Courgette Salad with Dolcelatte
You need 4 small of courgettes, peeled and sliced either length or widthways, I use a potato peeler for skinning and slicing..
It's 1 tbsp of raspberry vinegar.
You need 1 1/2 tsp of good olive oil.
Prepare 2 of good pinch each of dried, tarragon, wild garlic ( or use garlic chives if wild garlic not available) and fresh cracked black pepper.
You need 1 pinch of each of chilli flakes and salt or salt substitute to taste..
Prepare 1 of handful each of rocket, baby and red chard salad leafs.
Sig's Courgette Salad with Dolcelatte step by step
Peel and slice courgettes thinly.
Make dressing with olive oil, vinegar, tarragon and wild garlic ..
Add the salt and chilli flakes.
Mix courgettes with dressing stand aside for about ten minutes.
Arrange the salad leafs on a plate and top with the marinated courgettes. Pour over any remaining juices..
Cube the Dolcelatte very finely, scatter over the courgettes that have been arranged on top of the salad leafs..