Cheesy Chorizo Rice.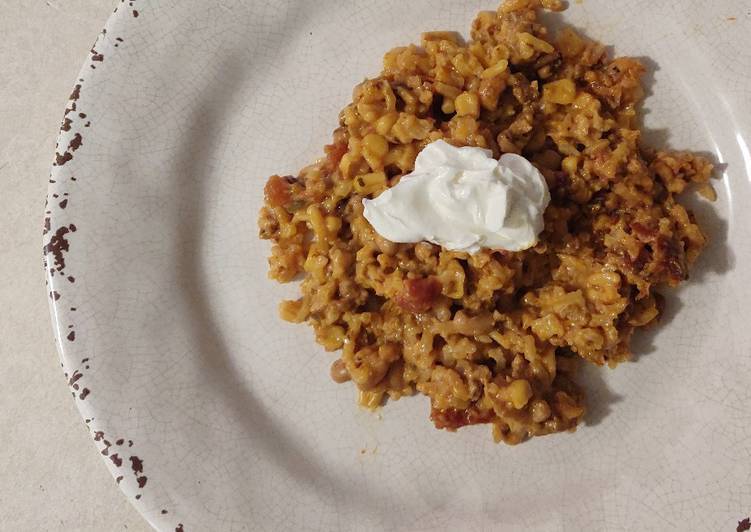 You can cook Cheesy Chorizo Rice using 13 ingredients and 10 steps. Here is how you cook it.
Ingredients of Cheesy Chorizo Rice
You need 20 oz of Chorizo Fresh Sausage.
It's 1 of small Onion (diced).
You need 14.5 oz of can Italian Recipe Stewed Tomatoes (not drained).
It's 16 oz of jar Ragu Double Cheddar.
It's 15.25 oz of can Corn (drained).
You need 14.5 oz of can Seasoned Southern Style Blackeye Peas (rinse&drain).
It's 12 oz of Chicken Broth.
Prepare 2 Tsp of Chilli Powder.
It's 2 Tsp of Cumin.
You need 2 Tsp of Garlic Powder.
You need 2 Tsp of Onion Powder.
It's 1 Tsp of Paprika.
Prepare 1 cup of White Rice (uncooked).
Cheesy Chorizo Rice instructions
Drain and rinse well corn and blackeye peas in collander. Set aside in sink..
Put the nanoceramic inner pot in the Foodi, no crisp & cook basket nor any racks. Turn the Foodi on and set to Saute..
Slice sausages to split casing. Remove casings and discard. Put sausage in Foodi and use wooden spoon to crumble it as it cooks..
When sausage is almost done cooking (about 5 minutes), add onion. Saute together two minutes..
Break up the tomatoes by squeezing them through your fingers into the Foodi pot, and pour remaining juices from can in the pot. Add cheese sauce, corn, blackeye peas, broth, and spices. Stir well..
Gently sprinkle rice over mixture. Using the wooden spoon, gently tap it just under the surface of the mix. You don't want it going to the bottom..
Put the pressure cooker lid on the Foodi with the valve positioned to seal. Set it to high pressure for 10 minutes..
Let it natural release 3 minutes when done. Then quick release the pressure valve..
Stir it and let it sit warming another 5-20 minutes. The sauce will absorb more into the rice and become thicker as it sits. Serve at your desired consistency..
Serve with crumbled tortilla chips, shredded cheddar, and/or sour cream..