Chicken Cordon Bleu Our Way.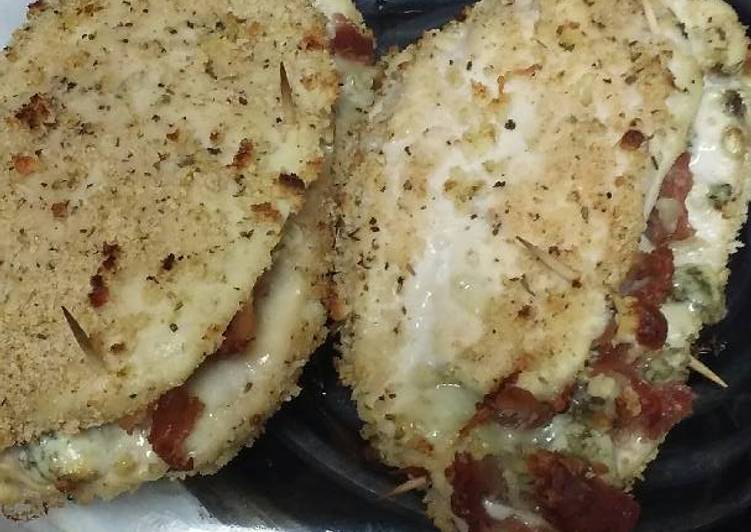 You can cook Chicken Cordon Bleu Our Way using 6 ingredients and 7 steps. Here is how you cook it.
Ingredients of Chicken Cordon Bleu Our Way
Prepare 2 of large chicken breasts.
Prepare 1 cup of breadcrumbs.
You need 1/4 tsp of each salt, pepper, garlic powder, Italian seasoning.
You need 1 of large egg, beaten.
It's of prosciutto.
Prepare of blue cheese crumbles.
Chicken Cordon Bleu Our Way instructions
Preheat the oven to 375°F. Lightly grease a baking dish and set it aside..
Start by placing the breadcrumbs and seasonings in a bowl and toss them together. Set aside. In a separate bowl, beat your egg. Butterfly your chicken breasts, then use a pastry brush to brush the egg all over the chicken breasts, then pat the breadcrumbs onto the chicken. Do this for both sides of the chicken..
In a large skillet, cook the prosciutto over medium heat until just starting to crisp, then remove from heat and set aside to cool enough to handle. Once cooled for a few minutes, chop it up..
Mix the blue cheese crumbles and chopped prosciutto in a bowl and place the mixture over half of each chicken breast. Use up all the mixture between the two breasts..
Cover the stuffed side of the chicken with the remaining half of the breast and secure the halves together with a few toothpicks..
Place the chicken in the baking dish and bake for 22-28 minutes or until the chicken is completely cooked through..
Once done, let the chicken rest for 5 minutes, then remove the toothpicks and serve..